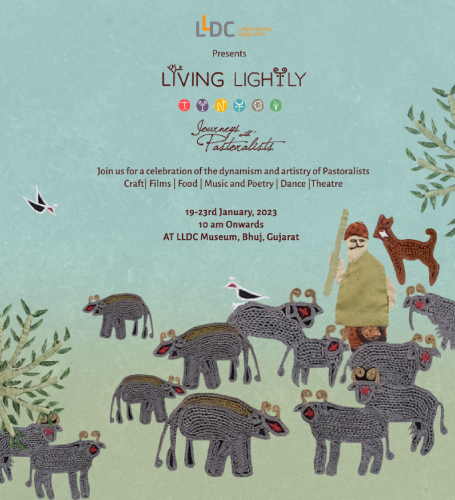 Hosted by the Living and Learning Design Centre (LLDC), 'Living Lightly- Journeys with Pastoralists', a Winter Festival, kicks off its first exhibition and event for the year at Bhuj, Gujarat from 19 – 23 January 2023.
The festival will be accompanied by performances that bring alive the poetry of Shah Abdul Latif Bhitai, a Sufi poet from Sindh, film screenings that give us a peek into the pasturelands of Mongolia, Bhutan, Ladakh and Himachal Pradesh, a pastoral food festival, the Sanjha bazaar – a marketplace for pastoral crafts, workshops, immersive field visits into the pastoral ecosystem of the Banni grasslands and a range of community consultations with pastoral youth from 17 states across the country.
Download the event schedule here
Click
here
 to know more about the festival.