Ishaan Raghunandan, with the Maldharis of Banni
In the past two years I taught photography to young Maldharis in Kachchh. Some of my students looked too young to be tending large herds on their own. They were different from each other in many ways. The most striking diversity was in their clothing and culture. They also varied in the animals they herded, the sizes of their herds, and the kind of terrain where their animals grazed. Yet, in their politeness and warmth for guests, they were one. In a short while, they progressed from knowing nothing about a camera, to gaining familiarity with all its features and modes.
After the initial phase of photographing everything in sight, a deeper urge emerged, to use photographs as a means of communication with the outside world. And they began to photograph the things they wanted the viewer to see; the story they wanted us, urban dwellers, to know.While they have stuck to their traditional livelihood, modernity is fast catching up with Kachchh and its people. Many Maldhari children, exposed to the world working at factories or tourist hotspots, are exposed to so much more information than their parents or grandparents ever have been. In many ways we are more ignorant of their lives than they are of ours. Some of them aspire for a steady and risk free income, which requires much less effort than herding animals. Why shouldn't they?
But is it all so simple? On the one hand, there is the attraction of a secure job and regular income and on the other, the hard, but happy lives of their parents and ancestors. Will the inter-twining of the Maldhari and her livestock that has endured for many generations, steadily unravel? My students offer a reassuring answer to that question. Most of them are driven by their love for their livestock. Even with all the hardships, they cannot imagine any another type of life. For now, it seems that the lure of economic security and physical comfort is not strong enough to snap the bond between man and animal.
Ishaan Raghunandan is a professional photographer with a post graduate diploma in professional photography and an engineering degree. He works in the field of wildlife conservation and rural documentary. In the last four years he has worked towards using the power of photography to have a direct and visible effect on good social causes particularly in combating inequality in all its forms promoting freedom, education and environmental protection. He is actively involved in education, teaching photography in rural areas of Kachchh, while also instructing courses on Tropical Field Biology in Peru.
The grit and determination of ordinary people who achieve extraordinary things, while making the best of local conditions whilst living in harmony with the environment have inspired him to continue working in the field of conservation.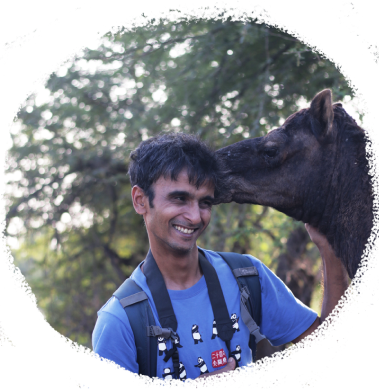 The buffalo has just delivered a calf, and is unable to feed it! Perhaps traumatised, tense, her udders are not producing any milk. The buffalo is emotionally close to this woman who goes on to ease, relax her by squeezing a few drops of milk straight into her mouth and then spurting it into the buffalos mouth! This she repeats a few times and …lo behold, slowly the buffalo begins to milk regularly!
Benanev has brought out here an intuitive practice that resonates with many other pastoralists across the country. In Kutch too, for instance, the Rabaris call this practice Ghordi.